Southern Colorado Attractions
Welcome to Southern Colorado Attractions where there is something for everyone!
First, I want you to imagine standing in your hotel lobby looking at all the brochures and fliers as you try to decide where to spend your day and where everything is located.
Wouldn't it be much simpler to take advice from someone who has already done it so you don't waste your time at "dud" places?
Well that is what you will find here.
We have been to all of these places many times and in all kinds of weather. We will tell you where each major Colorado attraction is located, entrance cost (if there is one) and the best time to visit.
As well as any other fun facts or information we feel will benefit you!
This allows you to easily consider all of your possibilities with little hassle so you can spend more time enjoying your vacation!
So let your adventures begin. . .
Great Sand Dunes National Park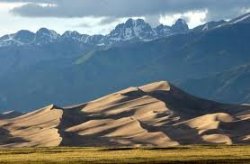 Ever imagined building a sand castle while looking up at snow?
Well it can be done at the tallest sand dunes in North America.
I love the Great Sand Dunes National Park as you can climb the highest dune, over 750 feet, play in the creek, sled the sand slopes, or just admire the beauty.