So What's To Do In
Southern Colorado Anyway?
The Answer: TONS
There is so much to do in Southern Colorado that you could spend an entire year here and not even see it all.
Don't have a year but only a few days to do and see it all?
No worries!
You have come to the right place.
This website is like knowing a local person and getting all the "insiders" information of what to do, best places to eat and stay, and best time to visit.
The main focus of this site is the San Luis Valley which is located in Southern Colorado.
This area is often overlooked for Colorado vacations but has hundreds of things to do and see.
The San Luis Valley is surrounded by the Sangre de Cristo and San Juan Mountain ranges which offer many exciting activities.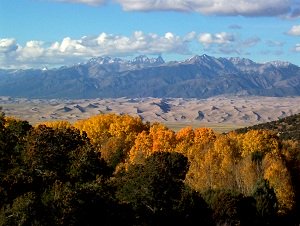 From hiking and fishing, to playing at the Great Sand Dunes, to seeing live alligators, and thousands of cranes it has it all.
Most of the valley floor is farmland growing potatoes, grain, and alfalfa.
With every season the views are constantly changing as crops grow, are harvested, and are then covered with snow.
Every visit is guaranteed to be different!
While most of these activities are available year round some only occur once a year for a few short weeks.
Without knowledge of the area you could visit the San Luis Valley many times and still miss some of the amazing opportunities and sites.
So who are we to give you the best information on the area?
Well, I (Debbie) was born and raised in the San Luis Valley and have lived here my entire life (over 50 years!) which gives me lots of knowledge and many experiences!
And I mean real hands on experience.
I grew up next to the Great Sand Dunes as my parents owned a gas station where the family worked. Then later I lived on a working potato and grain farm.
And Kaylie, my daughter is helping with the website as she has the computer skills as well as the love for the area.
We have enjoyed fishing and camping at some spots known only to locals as well as visited all the areas attractions through the different seasons.
We have come to love all the seasons and what comes with them.
Are you are planning a trip to the San Luis Valley in Southern Colorado, but not sure where to stay, eat, or what to do?
Then we invite you to explore this site and let your adventure begin!

Table of Contents
---
The Southern Colorado Blog keeps you up-to-date with all the additions and changes to southern-colorado-guide.com web site. Subscribe here.
Southern Colorado Events provides a detailed calendar of the time and location of events taking place.
Start your Southern Colorado Travel with these easy directions to get you to the southern part of the state and start having fun!
Southern Colorado Weather is usually sunny but can change quickly. A joke is that you will often us both the heat and A/C in your car in one day.
The San Luis Valley is one of the largest high desert valleys in the world and is home to a large diversity of culture.
Visiting a new place can seem overwilling at times, but Southern Colorado Attractions gives you all the information you need. . .
Colorado wildlife is very diverse with lots of opportunities for sightings.
Southern Colorado Farming grows a large variety of crops such as carrots, lettuce, and canola but the main crops are potatoes and barley.
Southern Colorado Museums helps showcase an area that is rich in cultural history.
Colorado Scenic Byways provide history, beauty, and a fun adventure all from the comfort of your own car.
Colorado Railroads allow for a different type of travel and experience.
The town of Alamosa is home to the Great Sand Dunes National Park as well as many other exciting attractions. Come explore what Alamosa has to offer. . .
Creede is a beautiful, remote town located in the majestic Rocky Mountains. It was founded as a silver mining boom town but is know best known for the Creede Repertory Theater.
Monte Vista is a quiet, rural town with much to see and do!
If you love the outdoors South Fork, Colorado is the place to go.
Southern Colorado Dining provides a list of all the great places to eat in the San Luis Valley.
Do you have an interesting Southern Colorado adventure? Do tell!
This is a place to meet Colorado local people and find out why they love where they live!
The about us page tells you who we are and why we love living in Southern Colorado.
Southern Colorado contact us information