Colorado's Oldest Church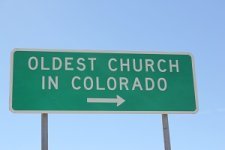 Colorado's Oldest Church was built in 1858 and is still standing and used today, over 150 years later.
Our Lady of Guadeloupe Parish Church is located in Conejos, Colorado just north of the town of Antonito.
It is west of US Highway 285 and can be seen from the road but is so beautiful it is worth the short detour.
History
Joseph Machebeuf was a French missionary who was sent to Colorado to spread the Roman Catholic religion.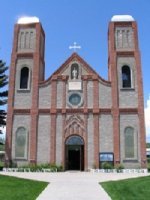 In 1858 he said first Mass in Colorado in a crude adobe chapel. The chapel was later replaced by Our Lady of Guadeloupe Parish.
The church was dedicated on December 12, 1863.
In 1871 the Jesuit Fathers arrived in Conejos, Colorado and established a Guadalupe parish.
The Jesuit rein lasted until 1920 when the church was turned over to the Theatine Fathers, a male religious order of the Catholic Church.
On Ash Wednesday, 1926 Colorado's Oldest Church was almost lost to an electrical fire. Everything but a few walls, the two towers and record books burned.
After the fire there was a discussion as to where to build the new church. Should it be moved to Antonito or remain in the same place?
The final decision was to rebuild in the original location as this would also allow the church to keep the recognition as Colorado's Oldest Church.
Currently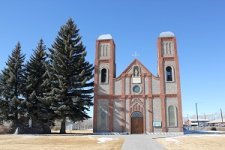 Colorado's Oldest Church is still in use today.
Mass is held every Sunday at 7:30 am and 11:00 am.
Around 400 families call this church home so you will be in good company.
If you are in the area I highly recommend stopping by to see Colorado's Oldest Church as it is beautiful and will give you bragging rights for unique places you stopped on your visit!!
Thanks to the Valley Courier for a picture and information.
Return to Top of Colorado's Oldest Church